Fortinet's Fortigate award-winning Unified Threat Management Security Appliances provide the best price/performance and the most comprehensive security feature set
As small or medium business cannot afford to deploy all the different standalone security solutions an Enterprise would deploy. Not only is there a large capital outlay but the operational costs and staff required would divert valuable resources away from growing the business. Hence there is a balance between cost and complex features which are sometimes never used. Network Security is the foundation of any security strategy but this also needs complimenting by Endpoint, Application, Access and Security Management.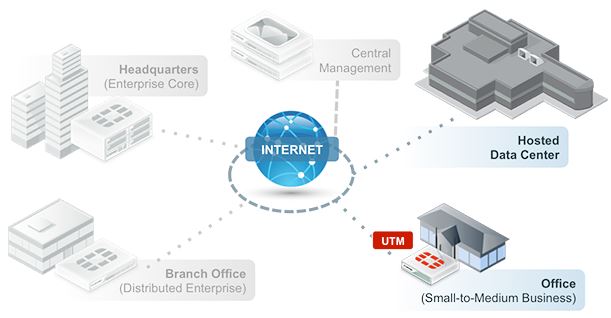 Unified Threat Management (UTM)
Firewall / VPN
NGFW (IPS & Application Control)
Web Filtering
Advanced Threat Protection (ATP) -Anti-Malware
WAN Optimization
Wireless Access Point
Endpoint Protection
Authentication
Fortinet pioneered the concept of Unified Threat Management (UTM) – consolidating multiple Network Security functions into a single device. This includes but is not limited to Firewall, VPN, NGFW (IPS, Application Control), Web Filtering, , Advanced Threat Protection (ATP) – Anti-Malware, WAN Acceleration – All under a single Policy manager.
Many UTM vendors obtain their Security feeds from third parties sometimes at a very low cost. This leads to poor protection quality, a non unified policy and most concerning a fragmented support and response process. Fortinet is different and only deploys home Grown Security Intelligence from its FortiGuard threat research organization.
FortiGate have extended the original concept of the UTM to add important Security Functions such as:
Wireless Access (Some model have integrated Wireless capability)
End Point Security
Authentication Controls
Access Switch Control
These can all be easily added via the configuration menu without further costs and allow customers to deploy a single UTM and cover just about all their security needs for perimeter, Access and Client (including mobile) Security.
Features
Wide breadth of network security features
Unmatched price/performance and Throughput
Extended Feature set beyond Network Security such as End Point and Wireless Access
Single Pane of Glass Management
Benefits
A single security platform that delivers all your Network Security needs
Extended security feature set at very low incremental cost
Product range that can expand with your business