Fortinet FortiGate 5000 Series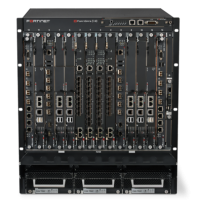 The FortiGate-5000 Series Chassis Platforms are highly flexible AdvancedTCA (ATCA)-Compliant Chassis Solution that protects large, complex networks, including multi-tenant cloud based security-as-a-service, infrastructure-as-a-service environments and scalable high capacity security gateway. The FortiGate-5000 Series offer maximum performance, reliability, and scalability for your high speed service provider, data center, large enterprise or telecommunications carrier networks and are ideal for virtual infrastructure as they can control up three thousand virtual domains.
FortiGate-5000 Series Chassis Next Generation Firewall Appliances support 2, 6, or 14 Security Blades which allow you to scale security and customize your unique environment.
FortiGate-5000 Series Networking Blades distribute your high-speed network traffic to multiple FortiGate-5000 Security Blades, enabling 10-Gigabit Ethernet (10-GbE), GbE, and 10/100 link speeds. Traffic routing and load-balancing services accelerate and optimize security functions, while allowing network protection to scale effortlessly with your growth plans.
FortiGate-5000 Series Security Blades provide consolidated network security functions and virtualized systems that secure different type of large scale environments. Powered by FortiOS and can be extended with FortiCarrier feature set for comprehensive network and security protection.
Product Name
FortiSwitch-5203B
FortiGate-5101C
FortiGate-5001B
FortiGate-5001C
| Firewall Throughput 1518 Bytes | Firewall Throughput 512 Bytes | Firewall Throughput 64 Bytes | Firewall Max Concurrent Session | Firewall New Sessions per second | IPS Throughput | IPSec Throughput 512 Byte Packet | Antivirus Throughput (Proxy) | Antivirus Throughput (Flow) | Total Network Interfaces | Total Storage Capacity |
| --- | --- | --- | --- | --- | --- | --- | --- | --- | --- | --- |
| 40 Gbps | 40Gbps | 40Gbps | 20 Million | 170K | 7.8 Gbps | 17 Gbps | 2 Gbps | 2.5 Gbps | 8 x 10GbE SFP+ Fabric Channel ports, 2 x 10GbE SFP+ and 1 x 10/100/1000 Base Channel ports | 64 GB SSD |
| 40 Gbps | 40 Gbps | 10 Gbps | 10 M | 235 K | 9.4 Gbps | 22 Gbps | 2.0 Gbps | 5 Gbps | 4 x 10-GbE SFP ports, 2 10/100/1000 management ports | 64 GB (MLC Nand flash) |
| 40 Gbps | 40 Gbps | 40 Gbps | 20 M | 170K | 7.8 Gbps | 17 Gbps | 2 Gbps | 2.5 Gbps | 8 x 10-GbE SFP+ | 64 GB SSD |
| 40 Gbps | 40 Gbps | 40 Gbps | 29.5 M | 210K | 9.8 Gbps | 17 Gbps | 3 Gbps | 4 Gbps | 2x 10G FortiASIC-accelerated, 2x 1G Management | 128 GB (MLC NAND Flash) |
Product Datasheets
Solution Guides
Connected UTM Solution Brief

Virtual Private Network Solution Guide

IPv6: Network Security and The Next Generation of IP Communication
Inside FortiGate: The FS1 System-on-a-Chip
Integrated Switch Fabric Solution Brief