Fortinet Singapore FortiAnalyzer – Centralized Network Security Reporting Appliances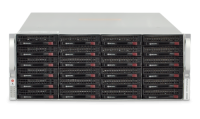 FortiAnalyzer Centralized Logging and Reporting Appliances securely aggregate, analyze, and report on network log data gathered rom Fortinet Network Security Appliances and other syslog-compatible devices. You can analyzer and manage a wide range of data, including security events, network traffic, web content, and email, to measure your security posture regulatory compliance. FortiAnalyzer is one of several versatile, adaptive Fortinet Network Security Management Products that support diverse deployment types, growth flexibility, advanced customization through APIs and simple licensing.
Versatile models are designed for large organizations and multi-tenant environments, smaller networks and mid-enterprise organizations.
Product Name
FortiAnalyzer-4000B
FortiAnalyzer-3000D
FortiAnalyzer-2000B
FortiAnalyzer-1000D
FortiAnalyzer-300D
FortiAnalyzer-200D
| GB/Day of Log | Average Retention at 5 GB Logs/Day | Maximum Log Rate (Standalone Mode) | Devices/ADOMs/VDOMs Supported (Max) | Total Network Interfaces | Total Storage Capacity |
| --- | --- | --- | --- | --- | --- |
| Unlimited | 6 years | Unlimited | 2,000 | 2 x 10/100/1000 ports and 2 x SFP ports | 6 TB (P24 TB Optional, 16 TB File System) |
| 250 | 4 years | 10,000 | 2,000 | 4 x 10/100/1000 RJ45 Ports, 2 x GbE SFP Ports | 16TB (2TB x 8) |
| 75 | 3 years | 3,000 | 2,000 | 6 x 10/100/1000 ports | 2 TB (Max 6 TB) |
| 25 | 2 years | 1,000 | 2,000 | 6 x 10/100/1000 RJ45 Ports, 2 x SFP Ports | 8TB (4x 2TB) |
| 15 | 1 year | 625 | 200 | 4 x 10/100/1000 RJ45 Ports | 4TB (2TB x 2) |
| 5 | 3 months | 350 | 150 | 4 x 10/100/1000 ports | 1 TB |
Fortinet Singapore FortiAnalyzer
Product Datasheets
Solution Guides
Inside FortiGate: The FS1 System-on-a-Chip